Posts for: September, 2019
By JC Duncan DDS, PA
September 14, 2019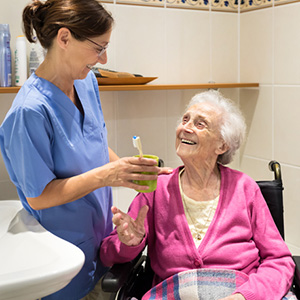 If you're the principal caregiver for an older person, you may have already faced age-related health challenges with them. Good preventive care, however, can ease the impact of health problems. This is especially true for their teeth and gums: with your support you're loved one can have fewer dental problems and enjoy better health overall.
Here are a number of things you should focus on to protect an older person's dental health.
Hygiene difficulties. With increased risk of arthritis and similar joint problems, older people may find brushing and flossing more difficult. You can help by modifying their toothbrush handles with a tennis ball or bicycle grip for an easier hold, or switch them to an electric toothbrush. A water flosser, a device that uses a pressurized water spray to remove plaque, may also be easier for them to use than thread flossing.
Dry mouth. Xerostomia, chronic dry mouth, is more prevalent among older populations. Dry mouth can cause more than discomfort—with less acid-neutralizing saliva available in the mouth, the risk for dental diseases like tooth decay or periodontal (gum) disease can soar. To improve their saliva flow, talk with their doctors about alternative medications that cause less dry mouth; and encourage your loved one to drink more water and use products that help boost saliva flow.
Dentures. If your older person wears dentures, be sure these appliances are being cleaned and maintained daily to maximize their function and reduce disease-causing bacteria. You should also have their dentures fit-tested regularly—chronic jawbone loss, something dentures can't prevent, can loosen denture fit over time. Their dentures may need to be relined or eventually replaced to ensure continuing proper fit and function.
Osteoporosis. This common disease in older people weakens bone structure. It's often treated with bisphosphonates, a class of drugs that while slowing the effects of osteoporosis can cause complications after certain dental procedures. It's a good idea, then, for an older person to undergo any needed dental work before they go on osteoporosis medication.
Keep alert also for any signs of dental disease like unusual spots on the teeth or swollen or bleeding gums. Visiting the dentist for these and regular dental cleanings, checkups and oral cancer screenings could prevent many teeth and gum problems.
If you would like more information on senior dental care, please contact us or schedule an appointment for a consultation. You can also learn more about this topic by reading the Dear Doctor magazine article "Aging & Dental Health."
By JC Duncan DDS, PA
September 04, 2019
One of the key elements in a child's development is their first set of teeth. Although primary ("baby") teeth last only a few years, they're critically important for enabling a child to eat solid foods, speak and smile.
But they also provide one more important benefit—they hold the space in the jaw reserved for the permanent teeth developing just under the gums until they erupt. But if a child loses a primary tooth prematurely because of disease or injury, other teeth may drift into the vacant space and crowd it out for the intended permanent tooth. It may then come in misaligned or remain stuck within the gums (impaction).
To avoid this, we try to treat and preserve a diseased primary tooth if at all practical. For a primary molar, one of the large teeth in the back of the mouth, this might include capping it with a stainless steel crown.
Why a metal crown? Primary molars normally don't fall out until around ages 10-12, so it may be years for a younger child before their permanent molars erupt. All during that time these particular teeth will encounter heavier biting forces than teeth in the front.
A steel crown is often the best solution for a molar given their longer lifespans and encountered biting forces. The crown's metal construction can stand up to these forces while still protecting the tooth from re-infection from decay. And because molars are typically outside of the "smile zone" occupied by more visible front teeth, the crown's metal appearance isn't usually an aesthetic issue.
Crowning a molar usually takes one visit, a dentist typically performing the procedure with local anesthesia and possibly a mild sedative like nitrous oxide gas ("laughing gas"). After removing any decayed structure from the tooth, the dentist will then fit a pre-formed crown over the remaining structure, sized and shaped to match the original tooth as close as possible.
A stainless steel crown is a cost-effective way to added needed years to a primary molar that could otherwise be lost prematurely. Preserving it may help a child avoid bite problems and expensive future treatments.
If you would like more information on dental care for primary teeth, please contact us or schedule an appointment for a consultation. You can also learn more about this topic by reading the Dear Doctor magazine article "Stainless Steel Crowns for Kids: A Safe and Effective Way to Restore Primary Molars."